Island House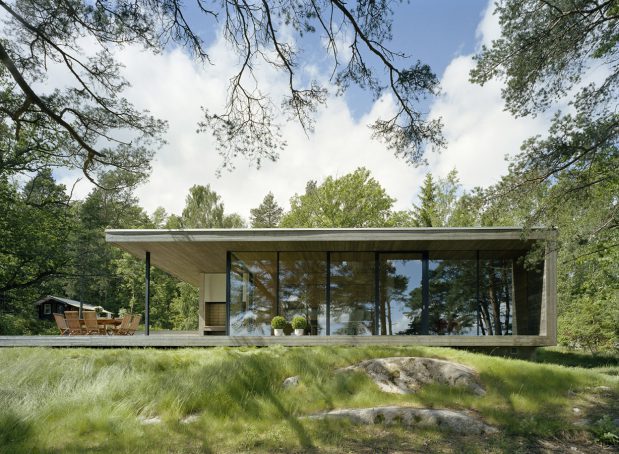 Type of project: Direct commission
Location: Archipelago of Stockholm
Type of building: Private summer house
Size of building: 150 sqm (120 indoors) + sauna 20 sqm
Year completed: 2004
The site is a waterfront property located on an island in the archipelago of Stockholm. Oaks and pines living in meagre soil between sculptural rocks dominate the landscape. A big section of the site's upper part is occupied by a large oak over 500 years old.
The clients, a young family with two children, wished for a house that would take full advantage of the scenic sea view without becoming a dominating feature on the coastline. Important factors were also the demand to create a house for leisure, with a feeling of comfort and relaxation; a house to socialise in; a house to feel pampered by, as opposed to one to take care of.
Our concept for this project is a building that sits slightly back and elevated from the waterfront, half-hidden behind the knotty pine trees. Facing the sea is a large area for socialising. A floor, a roof and a free-standing core for utilities make up this part of the building. It has an indoor part and an outdoor part, separated only by a sliding glass wall. The bedrooms, storage and bathroom are gathered in a more closed structure behind the core. They face a secluded courtyard framed by rock formations and the old oak tree.
Contractor: Ove Lyppert Bygg , Håkan Widjedal and Natasha Racki